What's inside: Make a total transformation in hours with this easy bathroom update featuring a painted accent wall and clever storage ideas. Brought to you in collaboration with Lowe's.
Beautiful Bathroom Update — in a Day
When it comes to decorating, the bathroom tends to be one of those areas in the house that I am guilty of forgetting. Generally you're in, out, and on with your day. But why can't the bathroom be beautiful too?
Redecorating our bathroom was so much easier than I expected — start to finish it took us about half a day. Keep reading to find out how we transformed our space without breaking our backs…or the bank!
Easy Accent Wall Tutorial
Our bathroom update centered around an easy painted accent wall. Surprisingly, this part of the project took the least time (less than an hour to paint), but made the most dramatic impact!
Benefits to painting an accent wall, as opposed to an entire room:
Quick project — Depending on the size of your wall it might only take an hour or two!
Ideal for renters — There's only one wall to repaint when you move out.
More options — You can use a bold color that might be overwhelming on four walls.
TIP: When choosing a color for your accent wall, look to match something you already own, or a statement piece you'll be adding to the space. We already had a colorful art piece that I planned on keeping, so I matched my paint to the green in the art. (Green is my favorite color).
We created our accent wall with Valspar Signature Satin Paint and Primer in One in "Pea Pod" from Lowe's Paint. Using a paint/primer combo means fewer steps and less work. I remember painting the walls of my college room, using a separate paint and primer — it took forever! However with Valspar Signature it is one easy step!
I'm absolutely thrilled with how our accent wall turned out! (Though Lowe's offers an amazing "Love Your Paint" guarantee just in case).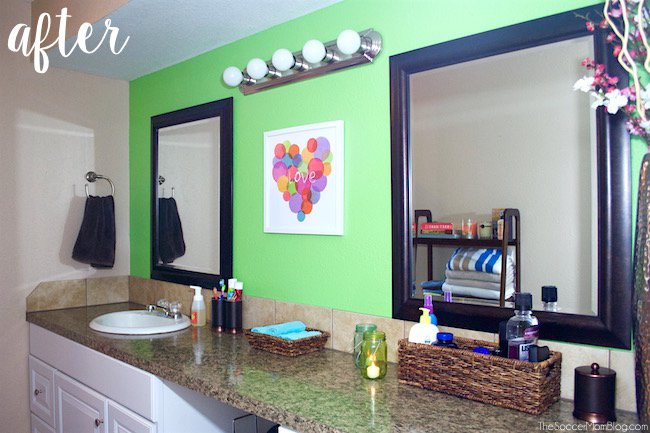 TIP: If you don't already have painting supplies at home, I recommend grabbing a kit at Lowe's. We picked up a Wooster 6-piece paint applicator kit that included everything we needed for our accent wall: large roller, small roller, detail paint brush, and paint tray.
Steps to create a painted accent wall:
Remove mirrors, art, etc.
Cover anything that can't be removed with painter's tape: light fixtures, backsplash, etc.
Cover counter with old sheets or newspaper.
Use detail paint brush to paint the outline of the wall.
Fill in with large roller.
Allow to dry 10-15 minutes. Apply a second coat of paint if necessary.
Space-saving bathroom organization ideas
Interestingly, sometimes it's what you don't see that makes what you do see look better!
Simply tackling the countertop clutter in our bathroom made a huge difference in the whole look of the space. Plus, it makes it easier to find specific items when you need them.
We already had a few drawer-sized storage baskets that I used to corral first aid supplies, extra toothpastes, etc.
While we were shopping for paint at Lowe's we picked up these wire stacking baskets that fit perfectly in our bathroom cabinet. This doubled our storage space and freed up a lot of room on our counter!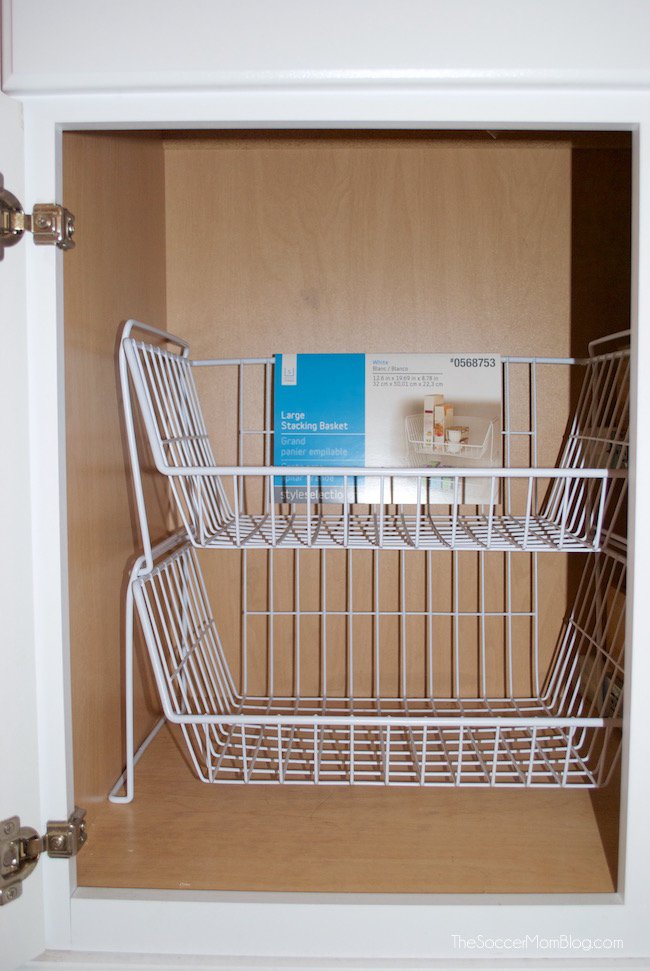 Repurposing Items you Own to Afford a "Splurge" Piece
We decorated on a limited budget, so I repurposed quite a few items in our bathroom update to save money. For example, I dug bright green scarf/wrap out of my closet to dress the window (which was previously bare except for plain blinds). This freed up room in our budget for one nice piece of furniture that we desperately needed.
I'm going to show you a before photo that is pretty embarrassing. Since we don't have a proper linen closet, we used to keep our towels on a rolling cart in the bathroom:
This gorgeous allen + roth Java 4-shelf bookcase is available at Lowe's and it is less than $100. I can't tell you how exciting it was to finally get rid of that hideous cart! This was my "splurge" purchase and well worth every penny!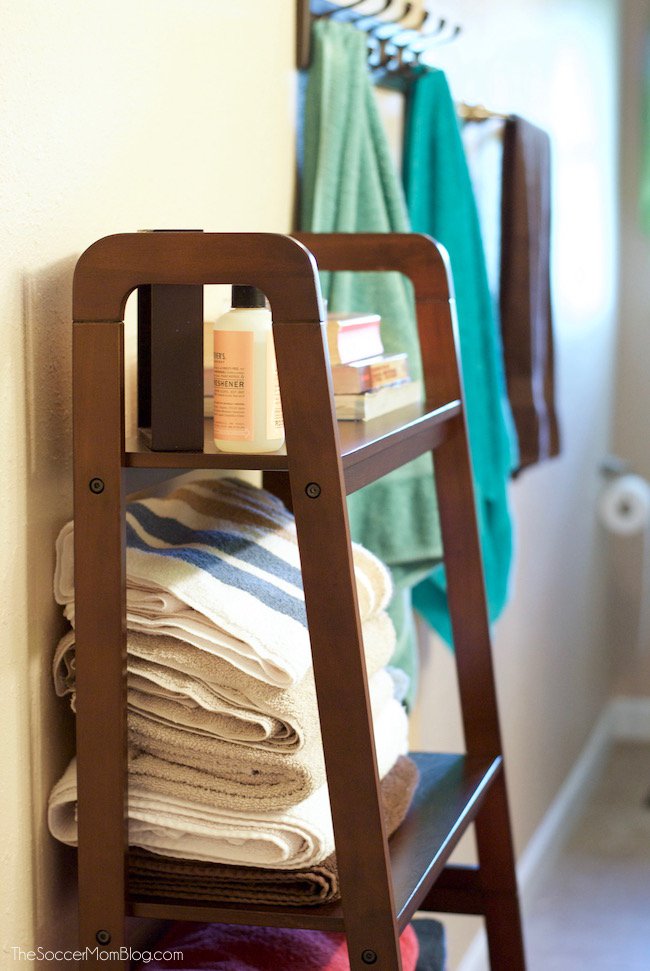 The Finishing Touches
These small updates complete the look:
Purchased a matching set of bathroom accessories (toothbrush holder, etc.) from the allen + roth line at Lowe's
Switched yellowing outlet covers for allen + roth covers that matched our bathroom accessories
Replaced a wire shelf with a dark wood garment hook for hanging wet towels
So what are you waiting for? Visit Lowe's online or head to your local store for more paint inspiration for your bathroom update or next home project!
Be sure to save this easy accent wall project on Pinterest:
This is a sponsored post written by me on behalf of Lowe's.
Latest posts by Stacey aka the Soccer Mom
(see all)